About Horsefly Farm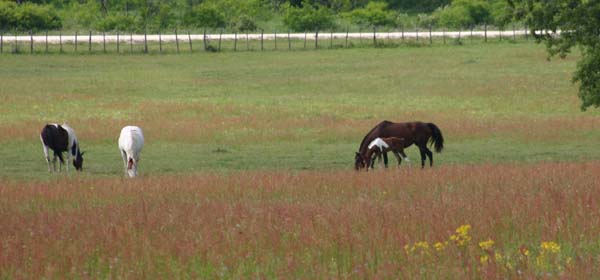 Horsefly Farm is located 30 miles southeast of Austin, Texas just outside the town of Bastrop. We have 70 acres of God's country and have built it up into a boarding and training facility.
The boarding facility consists of several different size paddocks, from run in stalls to 1/2 acre with sheds, to several pastures, from 12 acres to 18 acres, with run in sheds. There is a round pen, an arena, trails traversing the perimeter of the 70 acres, wash racks. Rehabilitation and retirement needs can also be taken care of with a 24 hour, 7 day/week observation with the owners living on site. There are 10x20 stalls available with daily turnout for these horses. The pastures and paddocks are coastal bermuda which are weed killed and custom fertilized every year along with being managed with mowing and tine harrowing on a regular basis. The fencing is smooth wire with electric wire on top to deter the horses from causing themselves injury.
Please feel free to call or e-mail us with questions. Visitors are welcome anytime.
Rita Andrews Uhde, Owner